Leading poultry equipment manufacturers in india. It has a unique center cool design to the give maximum ventilation to the birds and ensures that air can circulate without obstructions. QS Cages are made of high galvanized steel wire which give more life to cages than normal galavnised wire. All cages of Qs comes with Sliding doors which enables easy handling of birds at the time of inductions & vaccination
For breeder on floor we provide chain feeding / pan deeding system with nipple drinking, slats with manual / auto nesting complete with environment control system. For breeder in cages we offer California & Battery H' Type cage. Which comes with manual, semi and fully automatic cages.
Quality Systems is engaged in a continuous effort with no compromises, to the improvement of all the products and services. We assured you of our quality products and timely delivery with complete support you may need for your projects. we are leading Poultry equipment manufacturers in India
Layer System
Quality Systems Layer cages are ideally suited for tropical climates and optimum use of natural ventilation.
Broiler System
Quality System's Automatic Pan Feeding has One feeder from day old to finish.
Breeder System
Quality systems offers the entire range of equipment's for breeder on floor or on cages
Environment control
Evaporative cooling is the process in which air is cooled by using the heat in the air to evaporate the water from an adjacent surface.
Accessories
hese boxes are very strong with ribs for good ventilation and easy washing.
Egg Packers
The STAALKAT Farmpackers is dynamic, robust design, with the smallest footprint, made to pack eggs in the most natural way.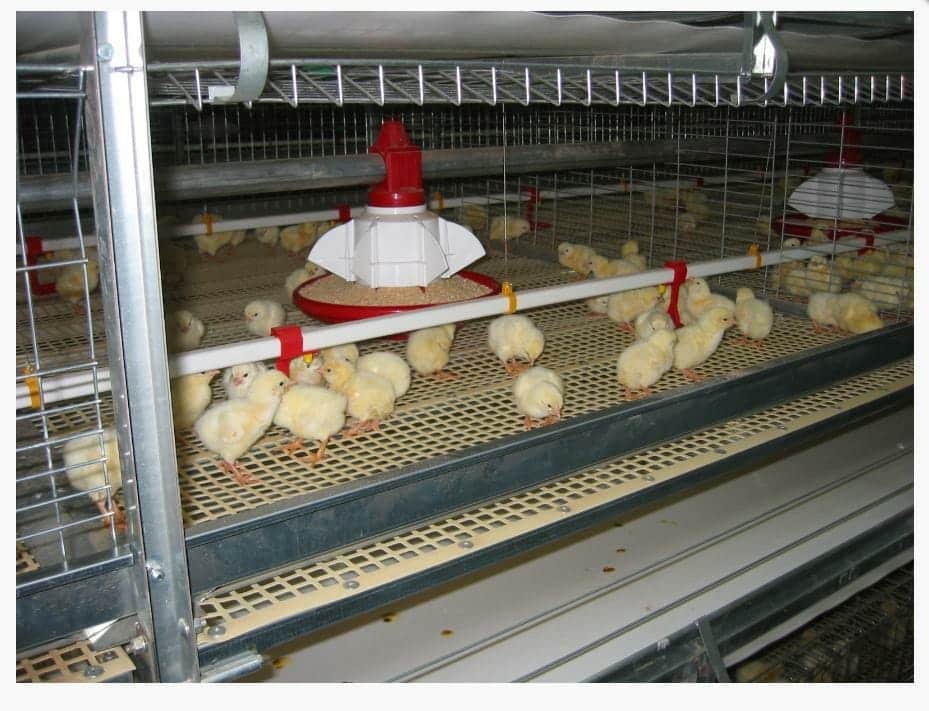 Poultry equipment manufacturers in India
The Quality system is one of the best poultry equipment manufacturers in India. We have more than 37 years of experience in poultry farm equipment manufacturing and can provide customers with a full range of poultry equipment and services. Our poultry equipment is maintained under professional team. We are leading Poultry equipment manufacturers in India.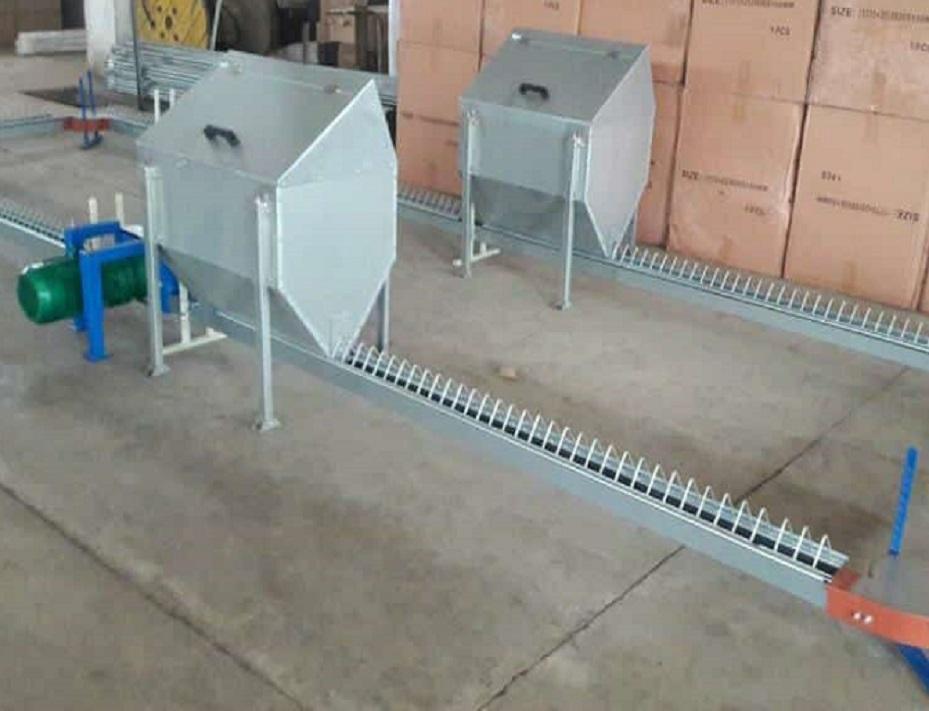 poultry equipment exporter in India
The quality system is one of the leading Poultry equipment Exporter in India. We have a huge range of export of all Quality Equipment which are ISO 9001:2015 certified. We analyze our equipment under our experienced team and export it all over India and worldwide.
Poultry Equipment Exporter in India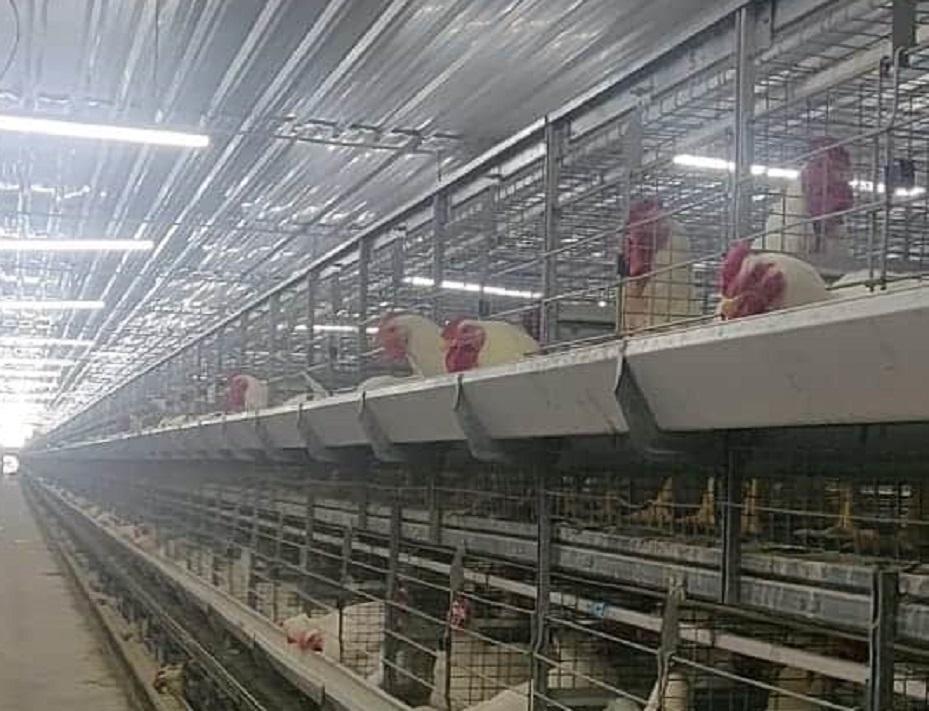 Breeder parent battery cages
Quality Systems India is one the Best and Leading Exporters and Dealers of Breeder parent battery cages or breeder battery cage. We Deals, Best Quality & ISO Certified Product with High Security and all Quality checks. Breeder cage.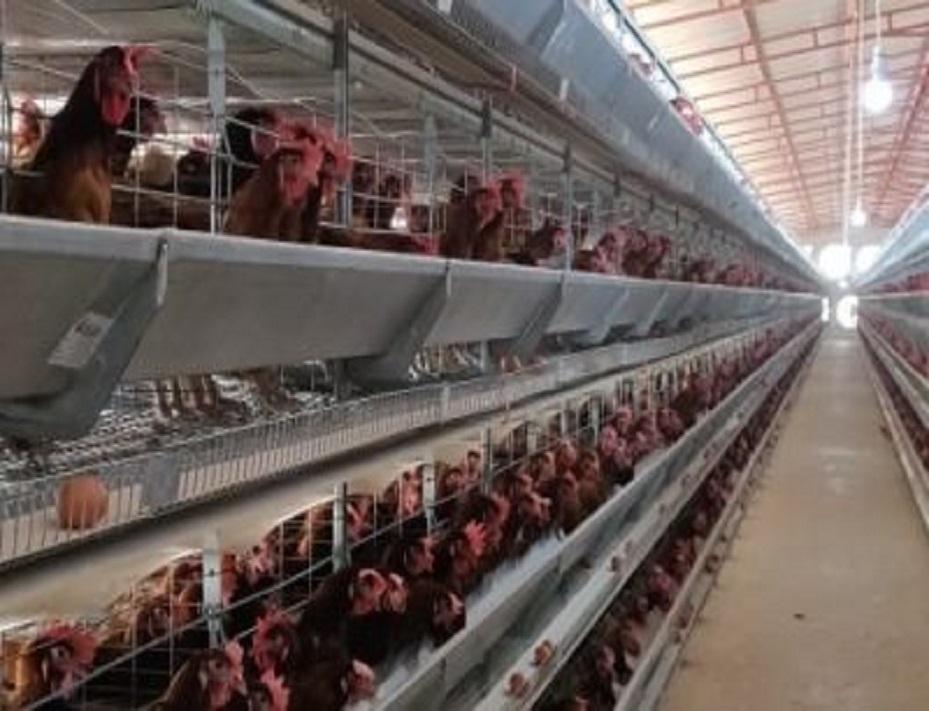 Poultry cage system dealers in India
We are a leading Exporter high grade Poultry cage system. The demand of the offered Poultry cage system is high as these are manufactured by making use of best grade raw material. Quality System India is one of the largest and most trusted Poultry Equipment Dealers in India. We offer a Huge variety of Poultry Cages.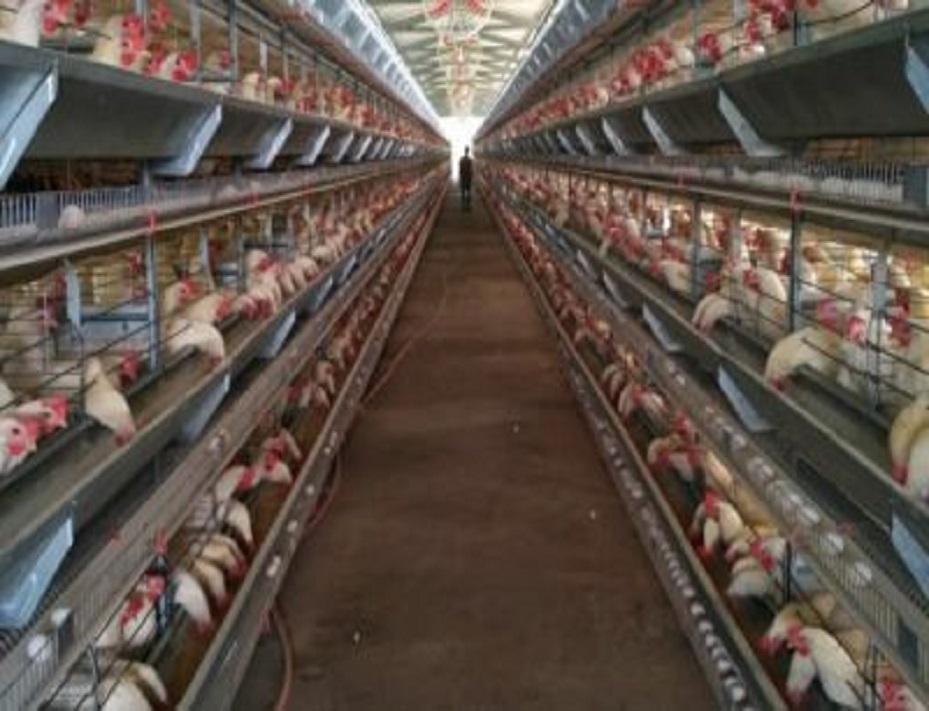 commercial layer battery cage dealers in India
Layer battery cages are housing system used for egg-laying hens. Layers battery cages have generated controversy between advocates for animal welfare and industrial procedure. Quality system India commercial layer battery cages are the most advanced layers housing system. Our best feature is high stocking density compared to conventional cages. Also called Layer battery cage or Layer cage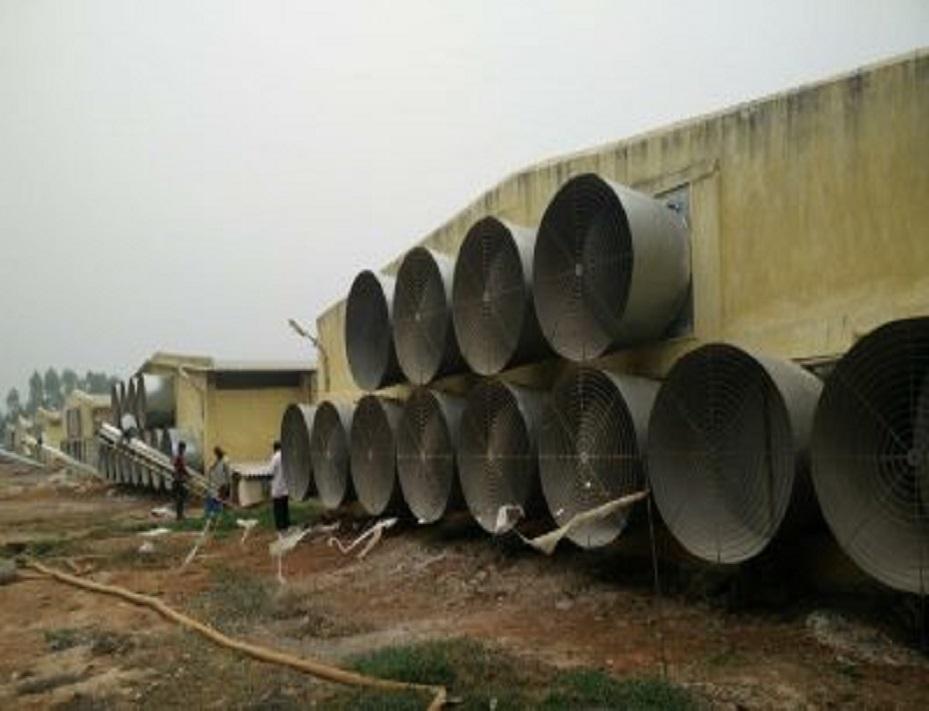 Exhaust fan pad system dealers in India
Exhaust fan pad system are made from stainless steel which personally tested motor for quality control. It has high evaporation efficiency and fast wetting features. It is simple and quick to install. Useful for various application like poultry systems, poultry cages and green houses.
POULTRY EQUIPMENT MANUFACTURERS IN INDIA
In the year 1983 – Mumbai (India) We established ourselves in India. We are famous as Poultry Equipment Manufacturers in India and
Poultry Equipment Exporter in India
of Poultry Equipment in India as Automatic Battery Cage, Feeding System, Drinking System, Evaporative Cooling Pad, Poultry Fan. It is made of high-quality raw material and sophisticated technology.
The products we manufacture are manufactured with high precision to meet worldwide standards of quality management. It is highly appreciated by the customers due to its attractive appearance, unique design.
The products presented are available in different types as per the different demands of the customers.
We trade our products under the brand name 'Quality System'. In addition, we are offering these products to our valued patrons at competitive rates.
The products we offer are designed and developed using cost-saving production techniques and quality testing materials.
The entire production process, from outsourcing of materials to quality testing of final products, is done by our competent team considering international quality criteria. That's why we're able to manufacture a range of incomparable products in the market.
We deliver all ordered items on time and do our business on an ethical basis. It is our ethical business practices, quality goods, and timely delivery schedule that help us reach the heights of success.
we provide quality serverces and best Poultry Equipment manufacturers in India
POULTRY CAGE SYSTEM DEALERS IN INDIA
The best poultry layer cages, broiler battery cages, breeder battery cages, automatic battery cages, layer battery cages, and poultry cage system dealers in India.
We manufacture and wholesale high-quality Poultry Layer Cages while adhering to ethical business practices.
The demand for the offered layer cages is increasing as it complies with the quality standards laid down globally. To ensure this, we manufacture these cages using high-quality raw material with the help of modern technology.
Product-array which we have made available in various specifications so as to meet the varied demands of the customers.
We are the leading firm providing broiler battery cages, worldwide. Experts use advanced techniques to build these cages. To maintain quality, our products are manufactured as per the needs of broiler farming. In addition, we offer this product at a reasonable price. Therefore, we are known as poultry cage system dealers in India.
Our existence lies in trusted names, which are engaged in providing a wide range of Breeders Battery Cages. Experts manufacture these products according to industry standards using advanced materials and advanced techniques. To maintain quality, quality controllers check the quality of this product according to industry standards around the world.
With the help of experts, our firm is able to provide automatic battery cages in a variety of models. Experts manufacture these products using advanced techniques and premium grade input from reliable traders in the market. Our products are highly used due to their high features and nominal prices.
We are engaged in delivering a comprehensive range of Layer Battery Cage to our respected clients as industry-leading names. This product is made by experts who use advanced techniques and optimal quality input that comes from reliable traders in the industry. Due to high demand, this product is available in various models.
Under our wide product range, we offer a flawless quality manufacturer cage system. It has enough space to keep chickens. The offered system is manufactured using the highest quality materials in our well-equipped manufacturing unit. In addition, our provided productive cage system is available in a variety of sizes.
In our quality system, there are layer battery cages, poultry layer battery cages for our valued customers.
COMMERCIAL LAYER BATTERY CAGE DEALERS IN INDIA
Commercial layer battery cage dealers in India, quality systems are developed by the company indigenously and are suitable for open and closed house systems with auto feeding system, auto egg collection, designed simple, robust, reliable, and easy keeping in mind the farming environment. Commercial layer battery cage dealers in India.
BREEDER PARENT BATTERY CAGES DEALERS IN INDIA
Breeder parent battery cages are one of the best and leading exporters and dealers in India. With the help of modern tools and state-of-the-art technology, we have been able to provide customers with a commendable assortment of Breeder Parent Battery Cages.
The offered range is manufactured strictly according to international quality standards using high-quality raw material, which is sourced from certified vendors in the market. Our range is widely known for its features such as unique design, proper ventilation, corrosion resistance, excellent footing, and long working life.
We are engaged in the production and supply of a wide range of Breeder Parent Battery Cages. Our offered range of these products is manufactured using optimum quality raw material as per industry set quality parameters. These products are in high demand due to their durable nature and easy installation system. Moreover, with the help of our huge product, we are expert in offering this range in various sizes and models manufactured as per the specifications provided by our clients.
Quality system poultry equipment is backed by a team of skilled staff who leave no stone unturned in delivering orders on a large scale and quickly. We have achieved a strong delivery system that enables our company to deliver to overseas customers. Because of these aspects we stand in the market and beat the competitors. So, get in touch with our marketing team and get ready for a long-term alliance.
Our vision is to bring innovation in all aspects of the business. We strive towards building a healthier society by delivering more than expected. Our mission is to provide our customers with ultimate quality products to build and sustain long-term and beneficial relationships with our customers, vendors, and employees.
The company is always striving to meet the high expectations associated with its qualified employees and with consistently high quality and trend-setting innovations products
Poultry Equipment Manufacturers in India
Quality system offer the latest and most advanced and sophisticated production of chicken farm equipment's in house facility which is supported by a professional research and development project with professionalism, capability and competence. QS Equipment are made strong, durable and the technical solutions are original, simple and very effective.
About Us
Our parent co. M/s Evergreen Technology Pvt. Ltd is in all types of wire mesh since 1949.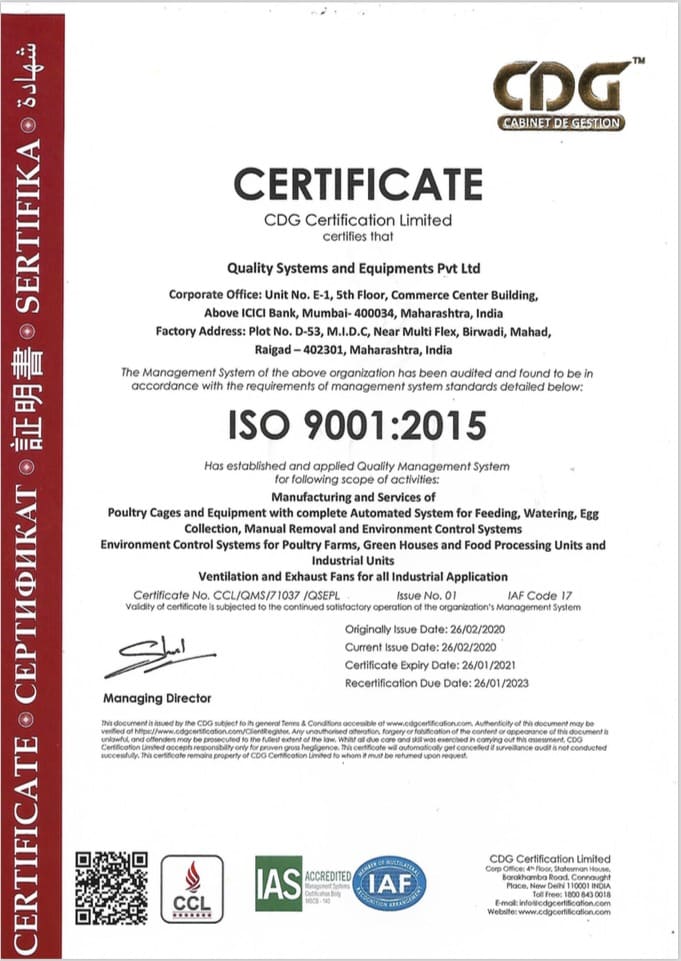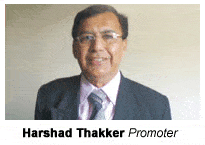 QUALITY SYSTEMS is led by a team of professionals who are pioneers in poultry automation systems since 1983.The Company has a dedicated team of specialists and latest support systems to handle turnkey poultry automation and installation
Our parent co. M/s Evergreen Technology Pvt. Ltd is in all types of wire mesh since 1949.
Quality Systems was started by Mr. Harshad Thakker in 1983 to pioneer in Poultry automation.
since then QS has been carrying out the Turn Key projects world wide. It is the experience accrued by working in the most different social, environmental and economic conditions which allows QS to design and carry out integrated projects thus contributing to the development of the Poultry Industry worldwide.