Types of Exhaust Fan for Poultry
COOL FAN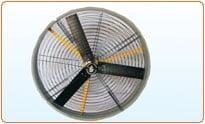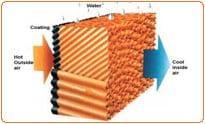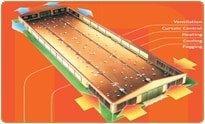 Evaporative cooling is the process in which air is cooled by using the heat in the air to evaporate the water from an adjacent surface. The hotter and drier the incoming air, the higher the temperature reduction. A temperature reduction of 10 to 20 C (50-72 F) can be achieved by passing the hot air through the wetted pads.
The temperature reduction depends on the dry bulb and wet bulb temperature of the ambient incoming air, the thickness of pad (in the direction of the air travel), the geometry of the pad, the air velocity through the pad and provided the proper amount of water is used and distributed evenly so that all of the pads are wet through their depth, height and width.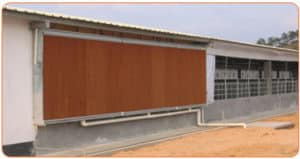 Quality logic controller is operated by activating & deactivating fans, curtains, heaters, cooling systems & alarm according to preset parameters suitable to control power, natural or tunnel ventilation houses. It is a stand alone controller equipped with keyboard & alphabetical LCD display. It is supplied with temp. and humidity probe. Also available with P.C. connectivity.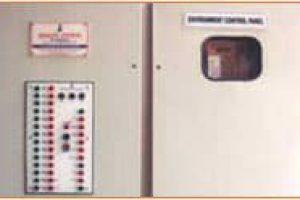 HEATING SYSTEM
A unique heating system to heat complete / part of a poultry house. Suitable for cages as well as for floor system.
It is designed to work automatically with the help of Control Panel. It ignites & operate on the basis of required temperature suitable for the b i r d s. Ignition takes place automatically only when gas supply is made, in absence of gas supply the system switches off automatically. The system saves gas and maintains uniform temperature; one space heater is suitable for 2500 to 3000 sq.ft. Depending on the atmospheric condition.
SPACE HEATER SPECIFICATIONS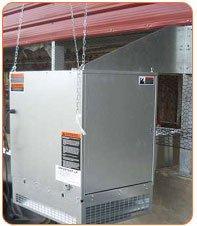 BTU/HR     225,000
Supply Gas Pressure 11.8 Min. – 14 max. (LP) 4.9 min. – 14 max. (Natural Gas)
Air Delivery – Heated 1,173 CFM
Fresh Air Requirement for recirculation 900 CFM
Electrical Requirements 115V/Single Phase/60Hz or 220V/Single Phase/50Hz
Motor 1/3 HP
Motor Currents 4.7/2.5 Amps
Dimensions Length x Width x Height 27"x20"x28"
Shipping Weight 120 Ibs
LP Gas 01-5430 (C225LP)
Natural Gas 01-5434 (C225NG)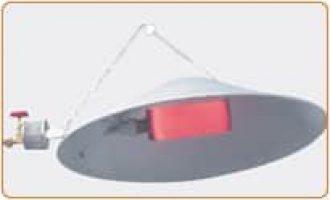 Salient Features
The first indigenous Gas Brooders manufactured in India
Economical in comparison with conventional brooding system
Affordable price to even small farmers
Can be installed & operated easily by any average operator
All time uniform temperature
Easy maintenance
SS washable filter provided for better efficiency
One year warranty from the date of purchase
Spares easily available on order
Two brooders can be used by the single gas cylinder
Technical Specification​
Gas Consumption Min.200 G/Hr / Max.400 G/Hr
Operating Gas Pressure 3-6 Kgs/Sq.Cm. (43-86 Lbs./Sq.inch)
Calorific Value Min. 2280 KCal./Hr. / Max. 4560 KCal./Hr
Brooding Capacity 1000-.1200 Commercial Birds
Brooding Area Converage 225Sq.Ft.@4′ Height
Weight 2.5 Kgs.
Dimension 600mm Dia Canopy / 125mm Height
Suggestive Placement 4Ft. From the ground level
Brooders Gap Required 15Ft
Fuel LP Gas
Temperature Range 30′-30'C@225 Sq.Ft.Area
High Pressure Fogging Systems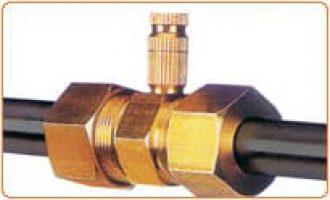 High Pressure Fogging Systems
Unique Brass Fogger provides very fine fog and uniform temperature for poultry and green house applications with using pump.
micron of the foggers: 5-20
water discharge: 89cc/min=5.34l/h
pump capacity(pressure: 50-70kg/cm2)
Pressure: 20-70 kg/cm2 (use 50kg upwards)
Pipe: High pressure PE