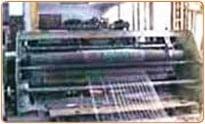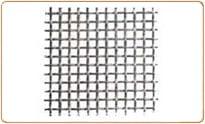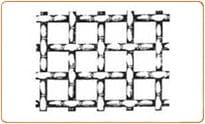 Fourdrinier Wire – 70 Mesh Regular Weave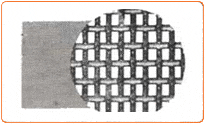 WELDED WIRE MESH/WELDED CRIMPED MESH
From 2 Mesh To 400 Mesh
All you need to tell us your Specific Requirement.
Material : Stainless Steel, M.S., Copper, Brass, G.I. etc.
Mesh Size or Clear Opening required.
Gauge of the Wire, Width & Length of WireMesh.
All wire products are manufactured as per I.S. standards 49 48 – 68. A certain range of Production is also covered by I.S. 1966 – 67
SCREENS
The Vibrating Screens are made of any Type, Light or Heavy to suit individual requiements as per Design & Drawing provided.
Screens are made on Automatic Machines for a Gauranteed perfection.
Screens are also supplied with edge preparation. The general and practical method of having taut screening surface is accomplished by means of reinforced hooked edges or hook strips formed on the two opposite edges of the screen cloth to be tensioned.
FILTERS/FILTER PACK/STRAINERS/PERFORATED SHEETS/CABLE TRAYS
The various sizes of Filter packs, Strainers Gaskets are made out of Stainless Steel WireMesh of different sizes and layers required by various industries like Petrochemicals, Food, Feretilizers, Nylon etc….
Sreens of perforated sheets are fabricated and supplied as per industrial requirements as under :
Chemical industries
Sugar industries
Mining
Stone industries etc.
CONVEYORS/CHAIN LINK FENCING/BARBED WIRE
All Types of metal conveyors belts of proven quality for transportation of general bulk goods as well as for many special purpose are made out of Stainless Steel Wirem, H.B. Wire, or any other metal using round, semi-round and flat wire perfomed to narrow or wide sparts.
Advantages of our Belts are uniformity, stability and no Elongation from Humidity.
Chain Link fencing and barbed wires are made out of hot DIP galvanised wire. Chain Link can be supplied upto 12th width.
Application : Fencing of Factories, Poultry Farms, Gardens etc…
AVAILABLE MESH WIDTHS AND WIRE THICKNESSES